Once you have logged into CalSNAP, you will be taken to the Home Page. You will find the following items on this page. Each numbered item is defined below the image.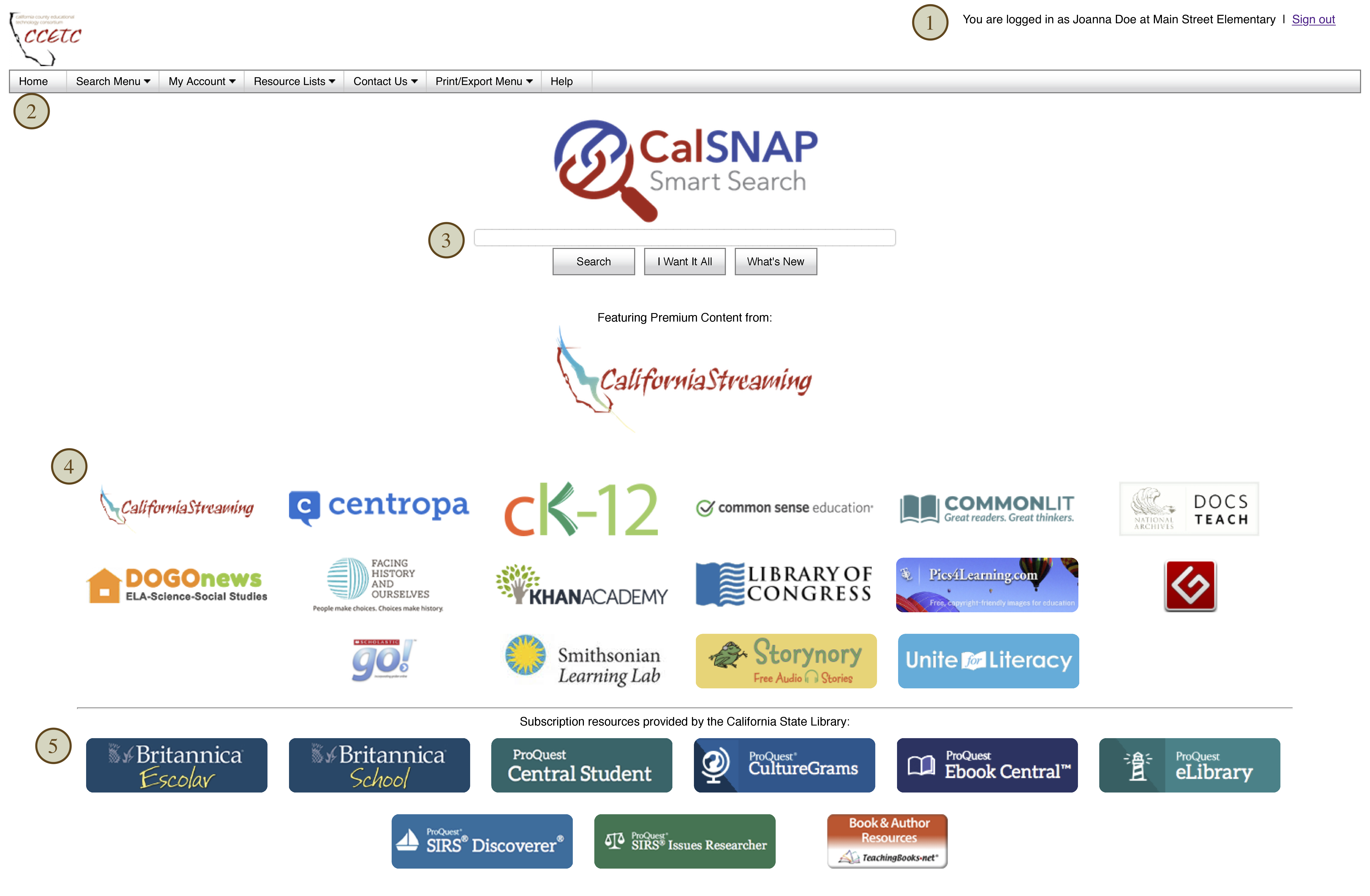 1, Displays your name and your school. If any of this information is incorrect, contact your County Office representative, or use the Contact Us form.
2. CalSNAP menu bar. Below is a brief explanation of the main items in the menu.
Search Menu – Use this menu to select the type of search.

Basic Search: Enter a search term (as what appears on the home page).
Advanced Search: Allows you to enter a search term as well as select other parameters, such as AND, NOT, OR, grade level(s), type of resource, and more.
Subject, Series, and Producer List: Allows you to view list and select all resources that are tagged with a particular subject, belong to a specific series, or created by a single producer.

My Account – Provides access to your digital history, a record of all items that you have clicked on in your search results.

Contact Us – Allows you to complete a form to make inquiries or provide feedback on the website features/functions.

Print/Export – This menu will change slightly depending on the contents of the page. Whenever your page displays any search results or content resources, you will also have the "Get PDF Catalog" option.


Search Bar area provides three options for viewing content.

Search: Enter a term in the field and click Search button.
I Want It All: Click to get a listing of all items in the CalSNAP catalog.
What's New: Get a list of all content added in the past 3 months. Results will be sorted by the publish date with newest content first.

Vendor Showcase displays all of the websites that are searchable in CalSNAP. The list of websites will differ based on the content that your school subscribes to. Clicking on the icons will take you to the websites home page.
For a base list of the Open Educational Resources (OERs) that are available at no cost, see our Partner Content List.
Vendor Showcase special content displays subscription content provided by the California State Library. Clicking these icons will take you to the home page of the resource as well as log you into your district account. Some of these items are searchable in CalSNAP, while others provide convenient auto-login access for teachers and students from school or home.